Sistemi Antinquinamento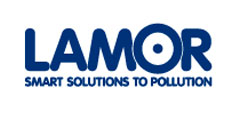 Per il disinquinamento marino e la pulizia/recupero di idrocarburi sversati a mare, Navaltecnica commercializza i prodotti Lamor, leader mondiale nella progettazione e costruzione di sistemi tecnologicamente all'avanguardia per la gestione/risoluzione di inquinamenti marini da idrocarburi.
In oltre 35 anni Lamor ha sviluppato una esperienza unica nella risposta e nel recupero di sversamenti di petrolio e olii combustibili, sia in ambito portuale che off shore.
Lamor ha negli anni commercializzato i suoi sistemi in 120 Paesi e oltre 1.800 equipaggiamenti installati in maniera permanente su navi sono stati consegnati ai clienti di tutto il mondo.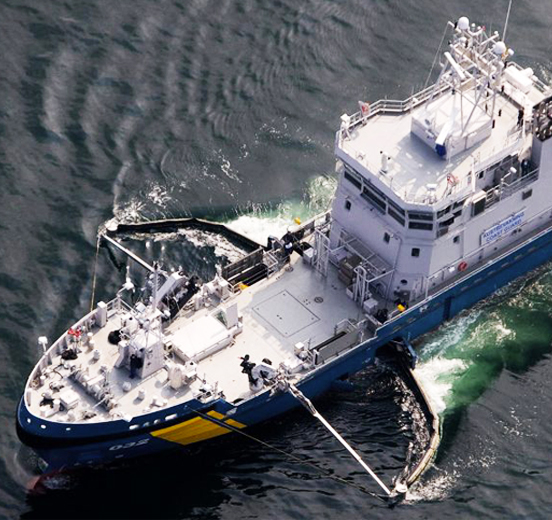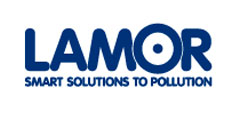 I prodotti antinquinamento Lamor Corporation
Skimmer <50 m3/h
The Minimax 25 skimmer is a light-weight new generation modular oil skimming unit that is easily transported and assembled. The Minimax 25 is designed to recover oil from e.g. inland waters, rivers and nearshore. The portable skimmer can be used in all terrains and environments, including Arctic conditions and remote locations.
The Minimax 25 consists of only three easily assembled parts, a skimmer body, a collection hopper and a brush module. Therefore it can be disassembled in less than a minute facilitating cleaning and service. Disc and drum modules are available as additional optional equipment.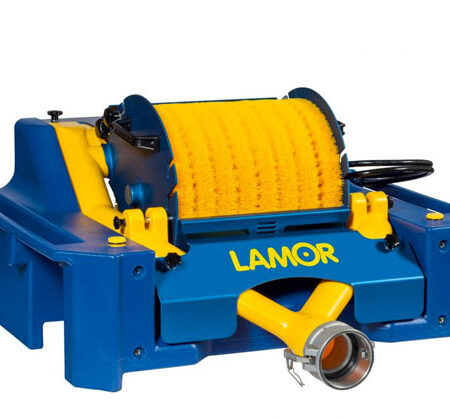 Skimmer 50-100 m3/h
The Lamor Brush Adapter Quattro LBA-Q-series are brush-wheel oil recovery modules designed to fit quickly and easily onto the hopper of the Lamor Weir Skimmer 500/800. The purpose of the device is to improve the overall recovery efficiency (reduce free water recovered with oil) and to improve the performance in very high viscosity oils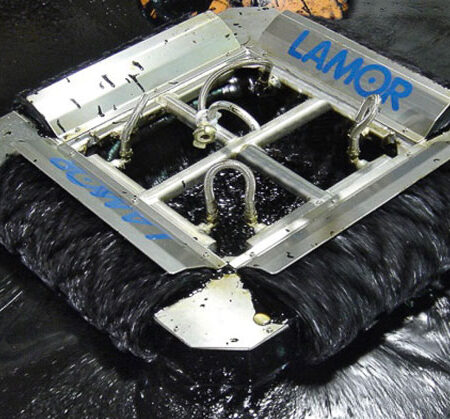 Skimmer 100 m3/h
The Lamor Brush Adapter Quattro LBA-Q-series are brush-wheel oil recovery modules designed to fit quickly and easily onto the hopper of the Lamor Weir Skimmer 500/800. The purpose of the device is to improve the overall recovery efficiency (reduce free water recovered with oil) and to improve the performance in very high viscosity oils.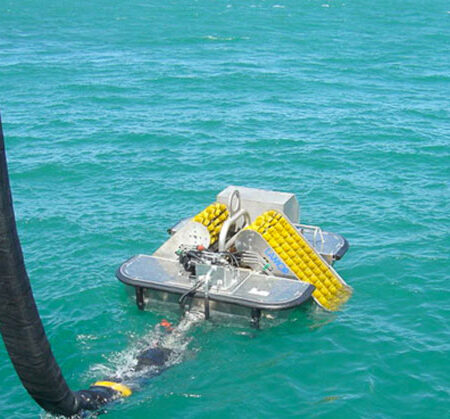 Vessel-mounted Skimmers
The Lamor and Egersund Group Marine Offshore Sweeper system, MOS, is an innovative, vessel mounted oil spill recovery system that processes whole oil slicks at a time with a 25 m sweeping width. The unique design allows operation in waves up to 3 m and at towing speeds up to 4.5 knots.
A multi-barrier system, the MOS consists of numerous deflectors organized in a herringbone pattern. This creates hydrodynamic currents that concentrate oil into the recovery channel and guide the contained oil to a skimmer and pump in the apex of the sweeper. Water flow is reduced by a bottom net, increasing the concentration of recovered oil before reaching the skimmer inlet.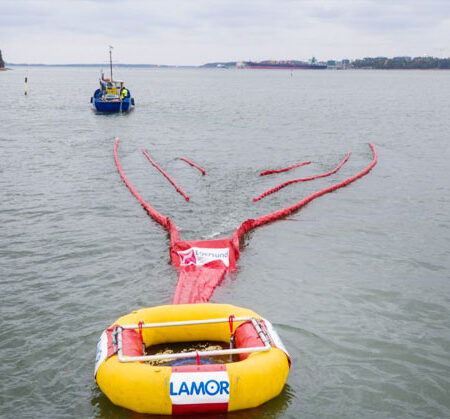 Power Pack
The Lamor Power Pack LPP 7 C75 is used as a suction pump and a power source for Lamor skimmers and smaller hydraulically operated equipment. The power pack represents a light-weight, easily portable power solution for hydraulic equipment that can be operated in remote locations.
The LPP 7 C75 is equipped with a 7.3 kW (9.7 hp) air-cooled single cylinder diesel engine. An electric start is standard with a manual start as back-up. The LPP 7 C75 has a single hydraulic circuit. The hydraulic flow is controlled by a valve located on the hydraulic pump body. The LPP 7 C75 provides ample power for multiple operations e.g. skimmers, light boom reels etc.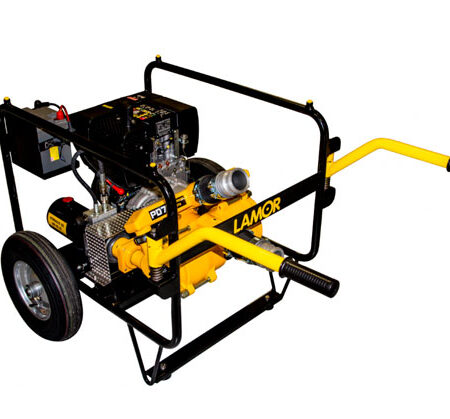 Pompe trasferimento olii
The Lamor Self-Priming Centrifugal (LSPC) 330 oil transfer pump is a skid-mounted automatic, self-priming suction pump. Designed to pump clear and dirty liquids with solids up to 7mm (3") in diameter the pump can be used in a variety of environments. The durable construction makes the pump suitable for use with abrasive liquids.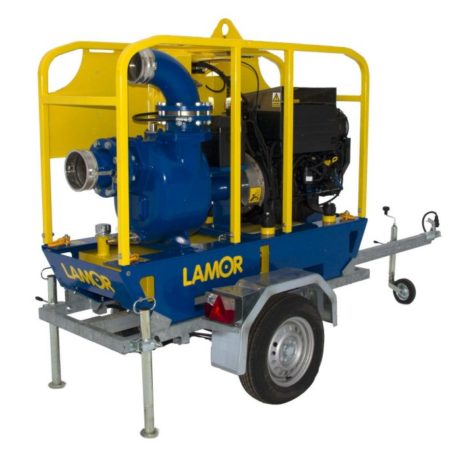 Panne di contenimento (gonfiabili, rigide e d'altura)
The Foam Filled Oil Boom (FOB) is a solid light-weight float containment boom that is easy to use and store. The boom is ideal for emergency and permanent use in sea conditions from calm to open water. The boom is ideal for use in lakes, harbors, power plants and refineries. The FOB can be utilized in all climatic conditions and environments, including Arctic conditions.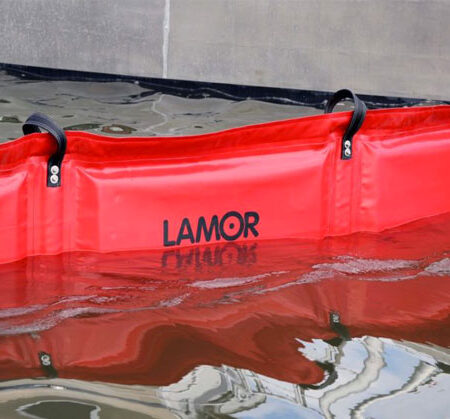 Rulli
The Light Hydraulic Storage Reel HSR L-series is designed for the safe and easy storage, deployment and recovery of oil booms. The HSR L reel is suitable for booms of light construction e.g. Lamor ILB and FOB, making deployment from harbors and vessels efficient.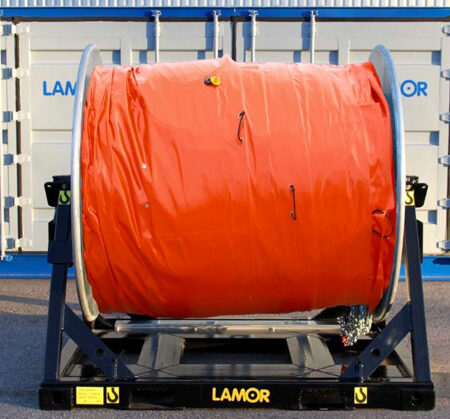 Imbarcazioni da lavoro
The Lamor Seahunter is a multipurpose work platform that consists of connectable hulls, in the most basic configuration only one motor hull, but the possibilities are endless as additional cargo hulls can be quickly connected to the motor hull if the need arises. The platform is ideal for assisting in skimming and clean-up operations near shore and in rivers and lakes.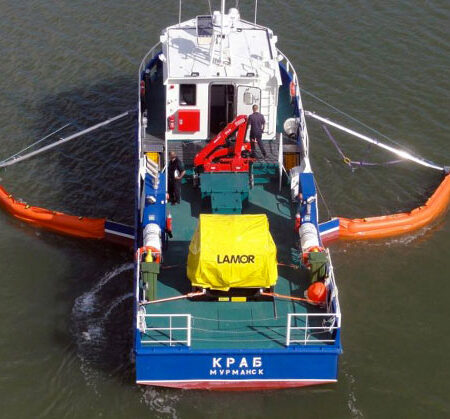 Serbatoi contenimento olii
The LFT C-type bladders are durable floating storage tanks designed for temporary storage of recovered oil.The tanks are mainly intended for use at sea as a towable storage bladder, and can also be used on land.
The LFT C-type bladders are manufactured from oil and fuel resistant fabric with a PU/PVC coat. The entire manufacturing process involves only welding therefore offering a much stronger alternative to glued or sewed storage bladders. All fittings used in the composition ore marine grade aluminum.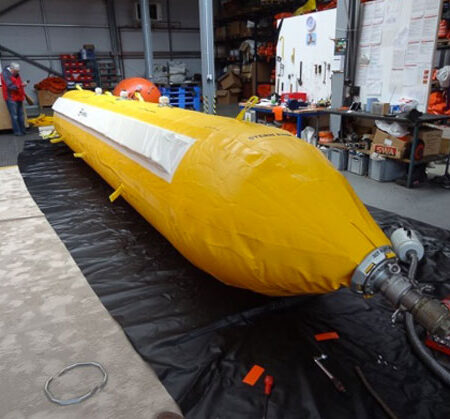 Equipaggiamenti ausiliari
The Lamor Over the Side Boom Washing Machine (BWM-OTS) represents a logical development of the successful Lamor boom washing machine. The BWM-OTS has been designed and developed to meet the increasing customer's demands for equipment that will enable boom cleaning without the need for boom retrieval. For large harbors and refineries with permanent boom deployments, the Lamor BWM-OTS offers the most convenient solution to boom washing without having to lift boom from the water.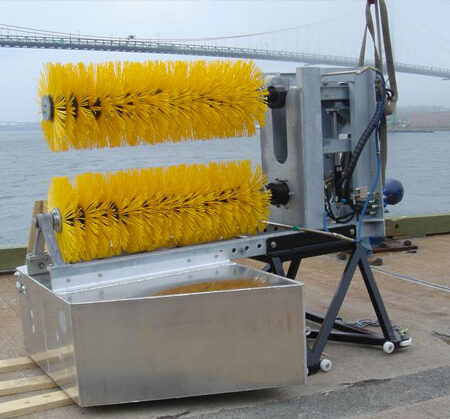 Barriere fisse
The Mk 7 Floating Baffle System is ideal for use in wastewater lagoons and industrial reservoirs in all climatic conditions. The Mk 7 baffle can be used to divide the basin into cells to provide e.g. progressive treatment of water and waste by creating a serpentine flow pattern. By increasing the retention time, the baffle systems allows solids and other contaminants to settle to the bottom of the lagoon, reservoir or tank, before the water leaves through the effluent.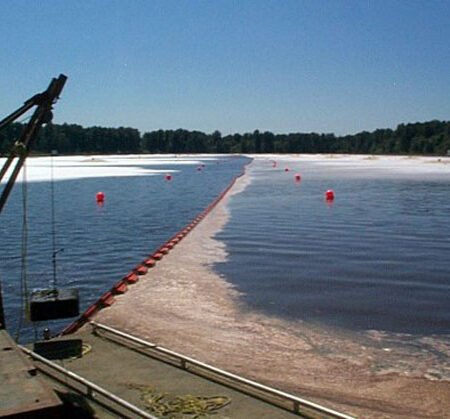 Skimmer per utilizzi industriali
The Lamor Industrial Process Skimmer is an oil recovery unit for industrial and process plant oil recovery. The unit is designed for removing oil and oil sheen and other floating products from the process plant tanks.
The oil from e.g. industrial processes or hydraulic oil leaks is collected to the skimmer head with the flow created by an electrically driven propeller unit. The speed of the propeller can easily be adjusted from the control panel. An air blade is used to help to trap the oil inside the skimmer head before removal by the air operated ejectors. All oil from the process is collected and trapped to the skimmer head and therefore no oil escapes through the system and all oil wastage is eliminated.